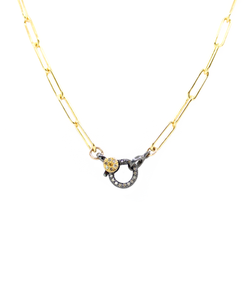 Sugar & Lola
Patterson
This unique industrial-inspired Lola Luxe design is sure to make everyone stop and stare in awe. This necklace is made with a 14k gold paperclip chain and its extender allows you to customize this piece by adding (or not) any charm of your choosing. If you want to make a statement, this piece is a must have!
Details:
Lola Luxe design oxidized silver and 14k gold with white diamonds (measures 6/16" L and 7/16" at widest part)
 2/16" thick
14k gold necklace 16 1/2"