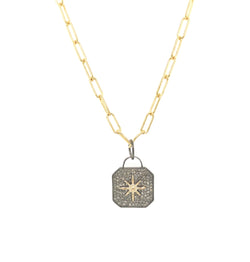 Sugar & Lola
Paris
This Lola Luxe design is exactly that, luxurious. Rightfully so, this piece is named after one of the most glamourous cities in the world—Paris, France—and whether you're looking for a gift or just want to spoil yourself, this necklace is guaranteed to make anyone who wears it feel as glamourous as Brigitte Bardot and as fashionable as Coco Chanel. Whether you're headed to fashion week in Paris, or simply grabbing dinner with the girls, this piece is sure to make everyone around you turn green with envy. Even more incredible is the versatility this necklace has to offer…this necklace is made with a 14k gold filled paperclip chain and the charm is available in both gold or oxidized silver.
Details:
Lola Luxe design oxidized silver with 14k gold and white diamonds (measures 9/16" L and 9/16" at widest part)
0.5" thick
14k gold filled paperclip chain 16"